We're back to discuss our next tool – Events with RSVP! For context, this is the third post in a series of 6 articles, each of which covers a different one of AddEvent's six tools. If you haven't yet, be sure to check out our other posts. (I'd start with Welcome to AddEvent then move on to What is Calendar Marketing) Here we go.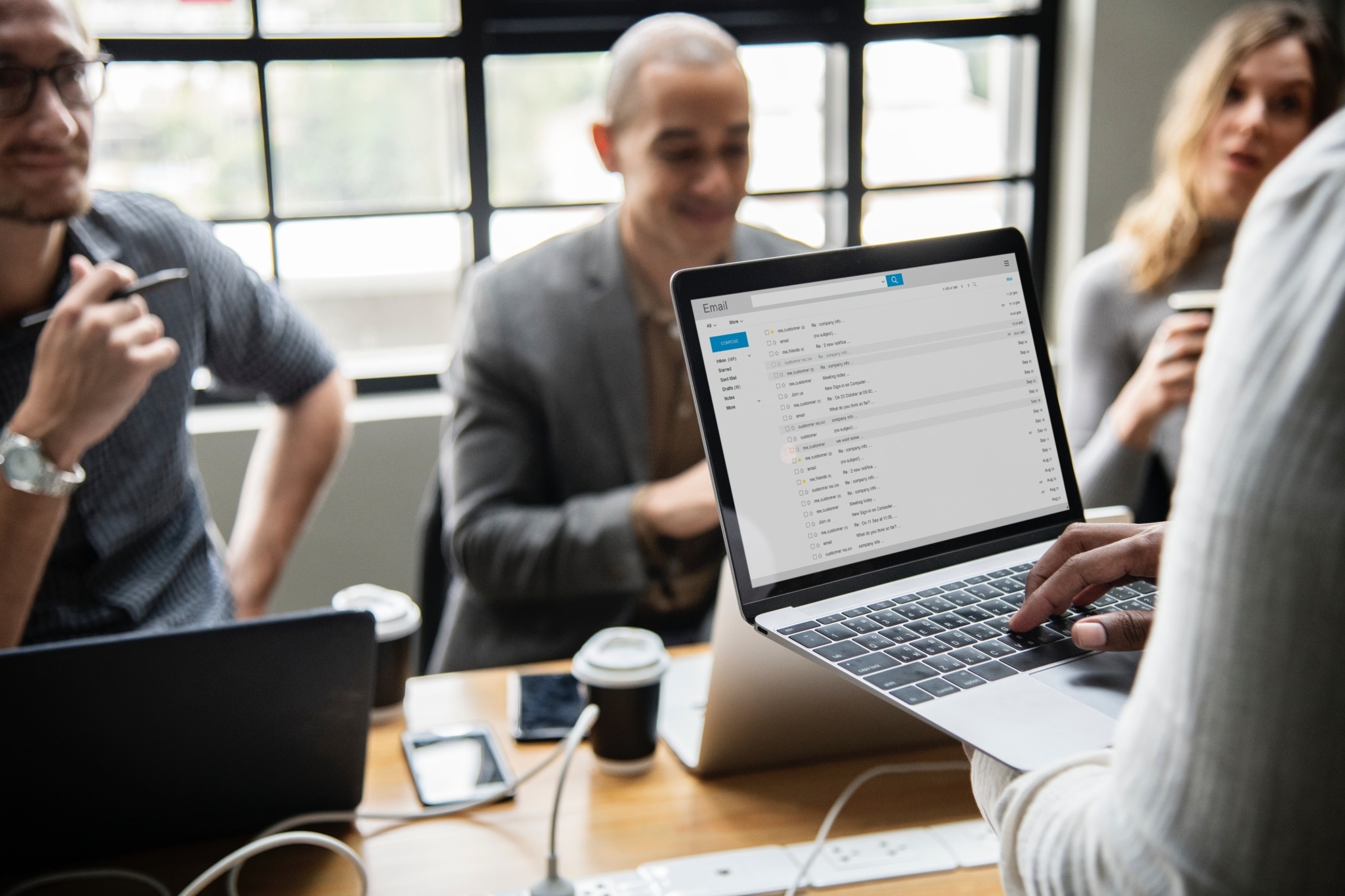 The Value
This tool makes it easy for your users to add your events to their calendars no matter where they learn about them – be it newsletters, social media like facebook or twitter, or campaign tools like MailChimp, Marketo, or Salesforce. How many people learn about an event, make a mental note to add it to their calendar later, but then never do? Not anymore.
More events on your users' calendars = increased top-of-mind brand awareness = increased attendance rates = good things for your business.
As if that wasn't enough, you'll quickly come to love the RSVP functionality as it helps you collect information from your users so you can plan accordingly.
Events with RSVP
The Event tool allows you to create an event with its own landing page which you can then share on social media, or use as a link in newsletters and campaign tools. Your users need simply click the link, be directed to the landing page, select their desired calendar, and your event will be added. Just like that.
The landing page is fully customizable, but the image below is one example of what it could look like (default design).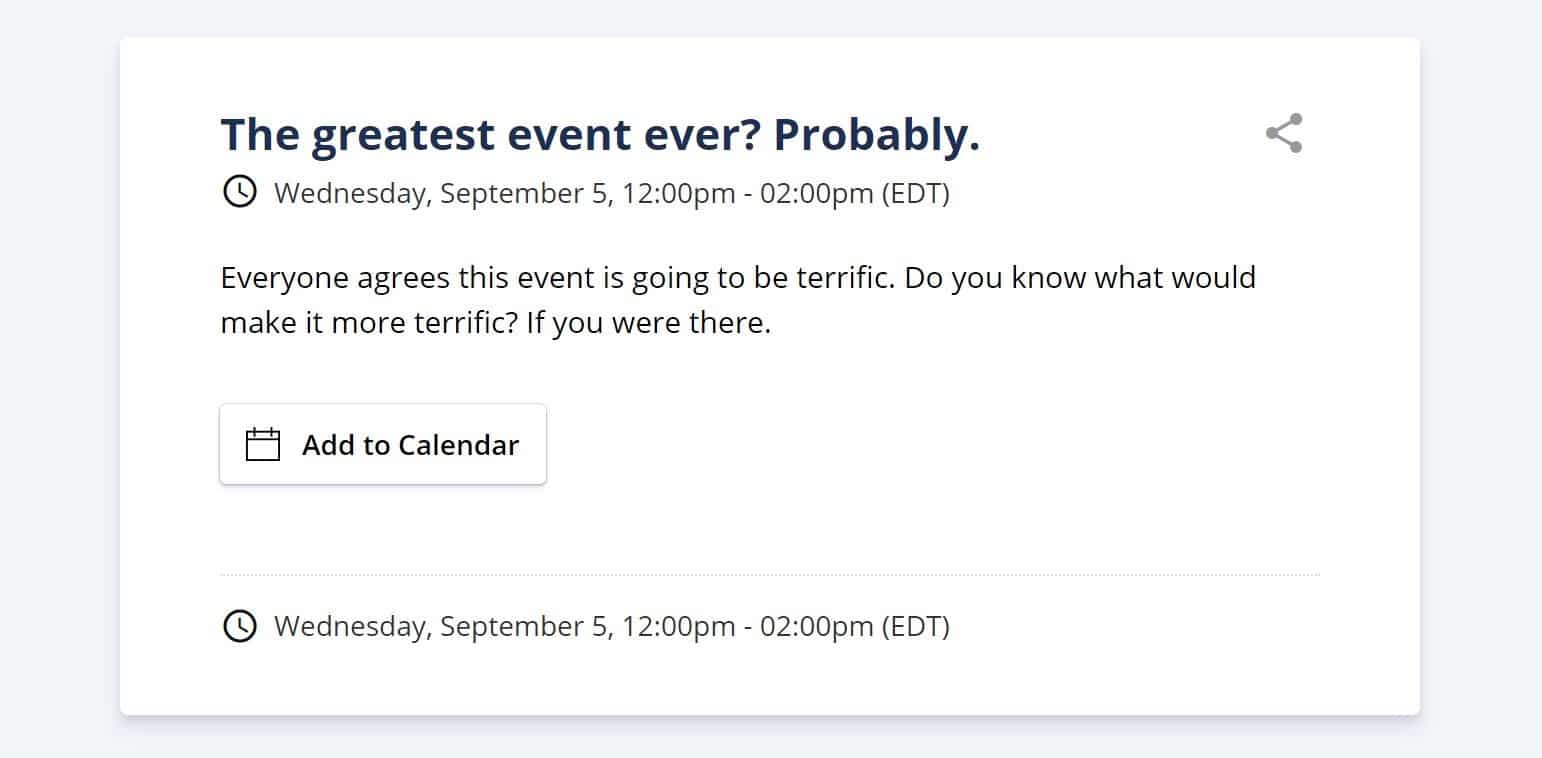 With a single click, your users will be able to navigate to this landing page from a link in a newsletter, a post on Facebook, or anywhere else you decide to share it. But it gets even better.
You also have the option of adding RSVP functionality to any event you create. This allows you to prompt users to register and RSVP for your event before adding it to their calendar. (See image below)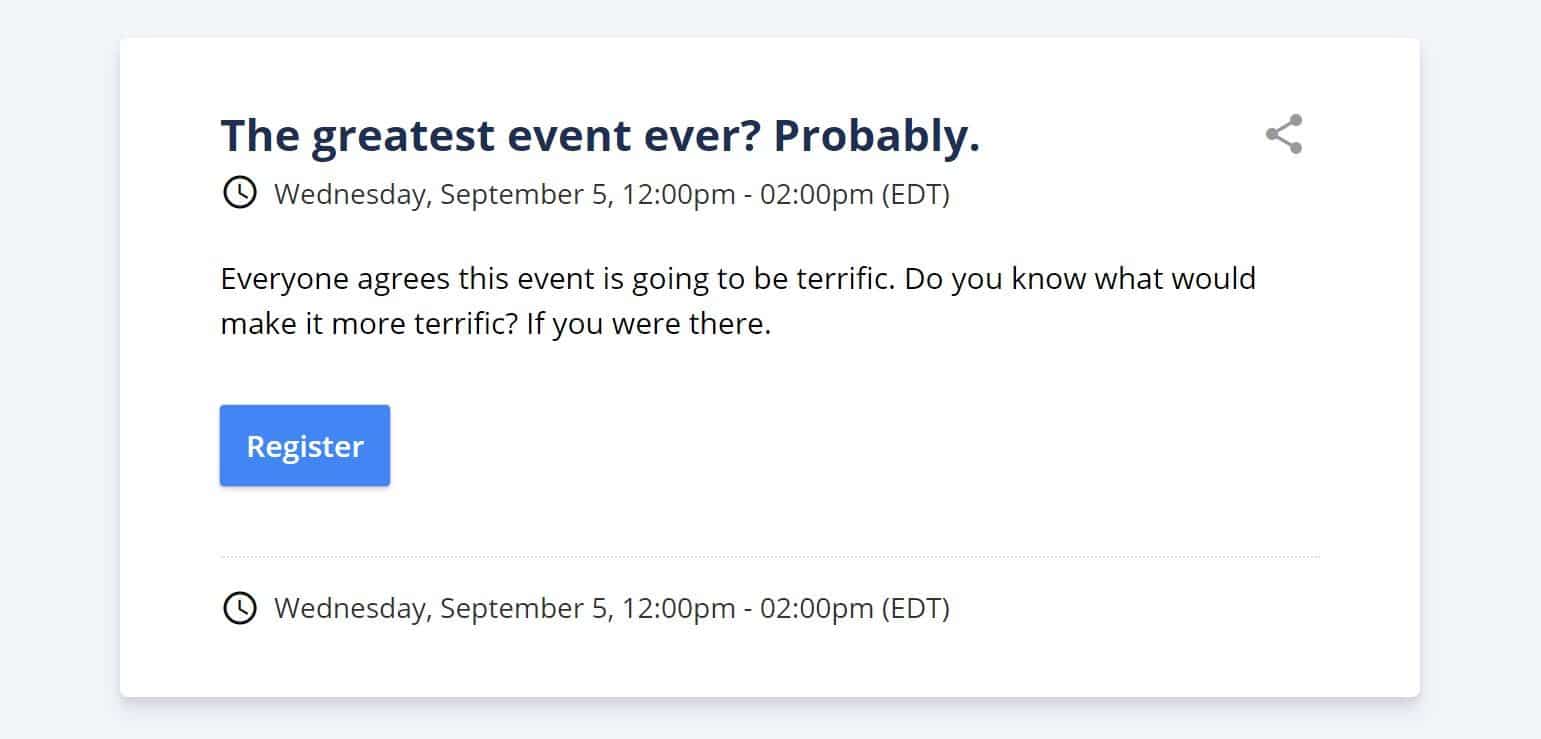 After clicking 'register', they will be asked to indicate if they are going, and to enter their name and email address as shown below. RSVP forms are fully customizable, meaning you can change both the design of the page and also the type and amount of information you wish to collect from your users.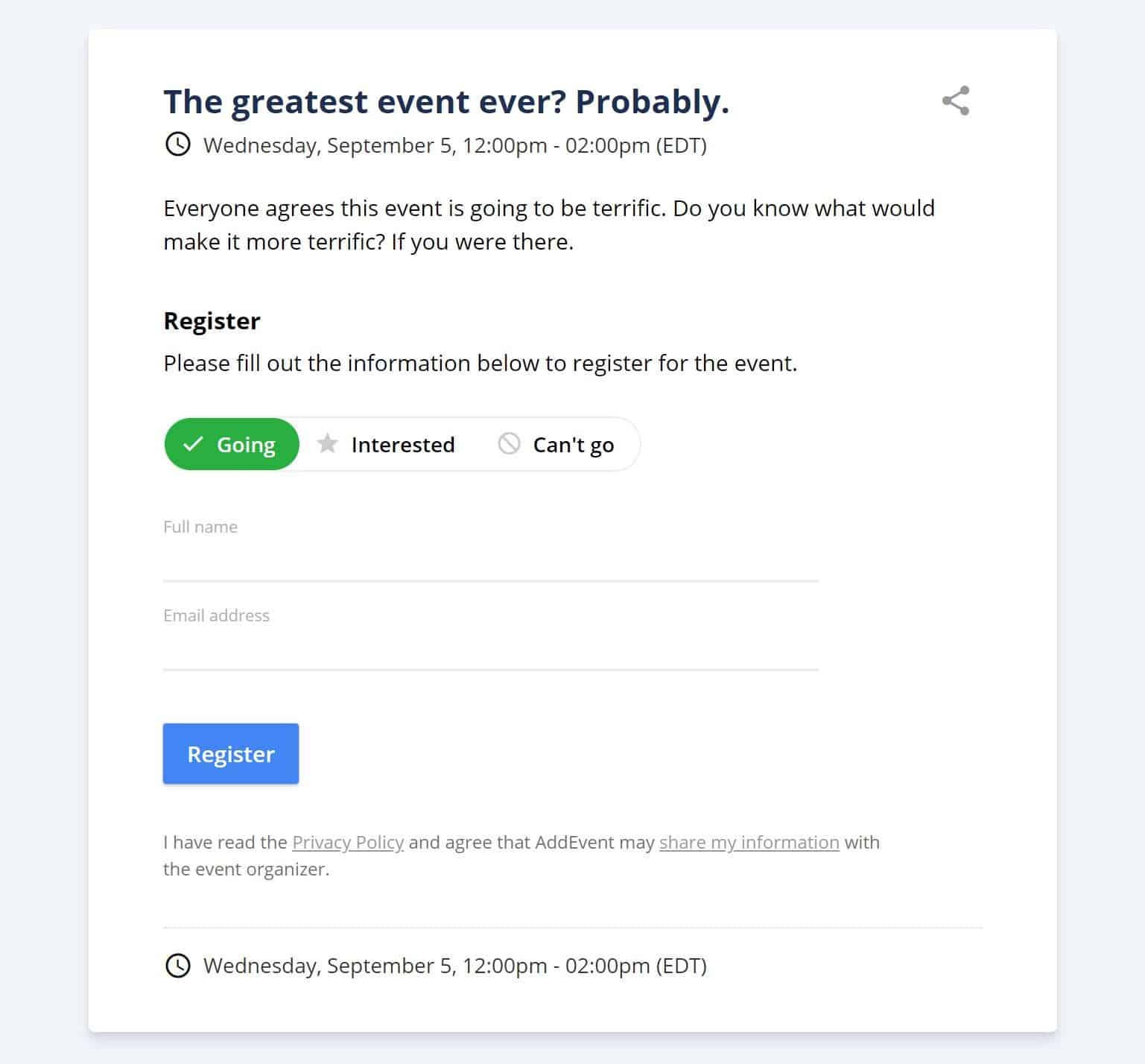 All information entered into RSVP forms is collected, organized, and displayed for you in your AddEvent.com account.
RSVP forms also have a set of automated messages and reminders built in. When a user RSVPs for your event, they will automatically be sent a confirmation email. Then as your event gets closer, your users will automatically be sent email reminders to help increase the participation rate for your event. You can choose if and when these emails are sent, and as usual, the content and design of the emails is fully customizable.
…
Click. Your event landing page is open.
Click. They're attending.
Typing name and email. 5 seconds later…
Click. RSVP sent.
Click. Event added to calendar.
…
In case you were wondering, that was a play-by-play of your users' experience. Quick. Simple. Seamless. Your users will probably spend more time wondering how it could possibly be so easy to RSVP for an event than they will actually RSVPing.
We make it easy for you to make it easy for your users. And we've proven over and over that making it easy for your users results in more events on their calendars, which leads to increased top-of-mind brand awareness and attendance rates, which… well, you know the rest.
Using Events with RSVP
It's very easy to use Events with RSVP. Simply sign in to your account on AddEvent.com, go to the Events with RSVP tool page, and click the "New Event" button.  The process of creating an event is extremely intuitive. Once you've finished creating and customizing your event and RSVP form (RSVP isn't required), there are several ways to share it.
The first is through a simple URL (automatically generated) that will take your users right to your event landing page. You can share this link on social media like Facebook or Twitter, or in an email.
The second way is the links method as described in the Subscription Calendar article. You can use this to share your event in emails, newsletters or campaign services such as MailChimp, Marketo or Salesforce. Simply choose if you'd prefer to show your users text or icons, click "copy", and then paste directly into the content editor you're working with.
The third and final way is through a series of URLs that bypass your landing page and go straight to adding your event to your users' calendars.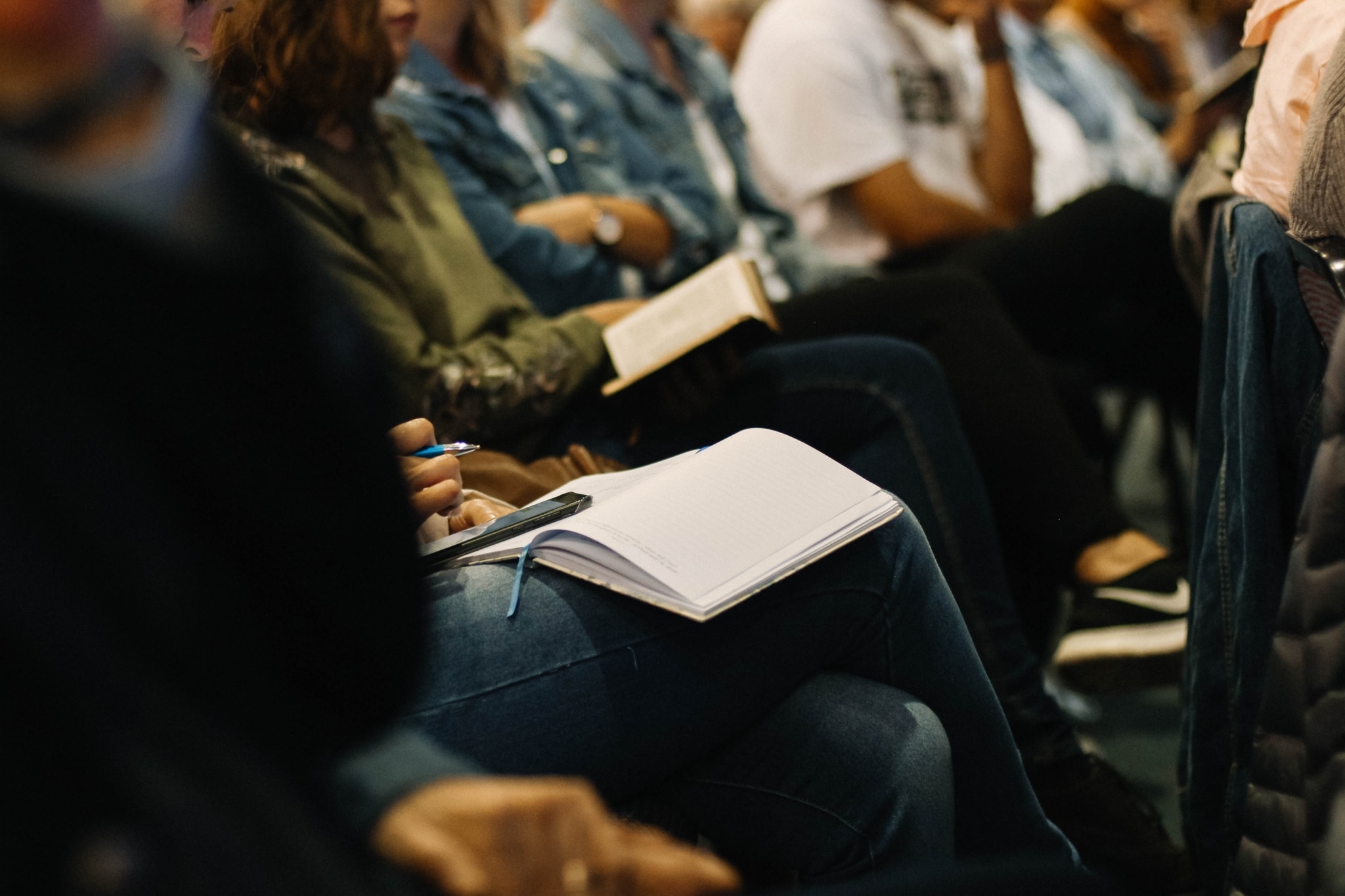 Our Use Case
We're big fans of the Events with RSVP tool here at AddEvent, so we actually use it ourselves for our team meetings. At the beginning of the week, I log on to my account and create an event for our Friday all-team meeting at 11:30am Pacific Time. I create a custom RSVP form so everyone has to enter their name, email address, and answer a different question I come up with each week. You know, questions like "What's your favorite color?" and "What's your sales philosophy in 500 words or less?"
Anyway, I email the link out to everyone, and by the end of the day I know who is and isn't coming, and the meeting is on everyone's calendar. It makes things easier for everyone.
So that's one personal example. Of course, we also have customers who use our Events with RSVP tool for online conferences with 20,000 attendees, so it has a wide range of applications 🙂
We love it, and we know you will too. If you haven't already, sign up to discover the impact this tool alone can have on your business. Of course, you'll also get access to our other incredible tools, so if you're still unsure I suggest checking out our Add to Calendar button and our Subscription Calendar tool. As always, please don't hesitate to reach out if you have specific questions.
Cheers,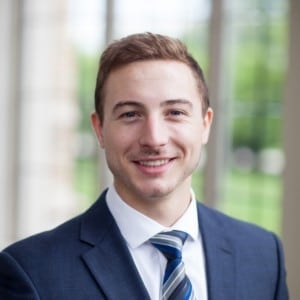 Nic Zenker
AddEvent's Chief Blog Post Writer & COO